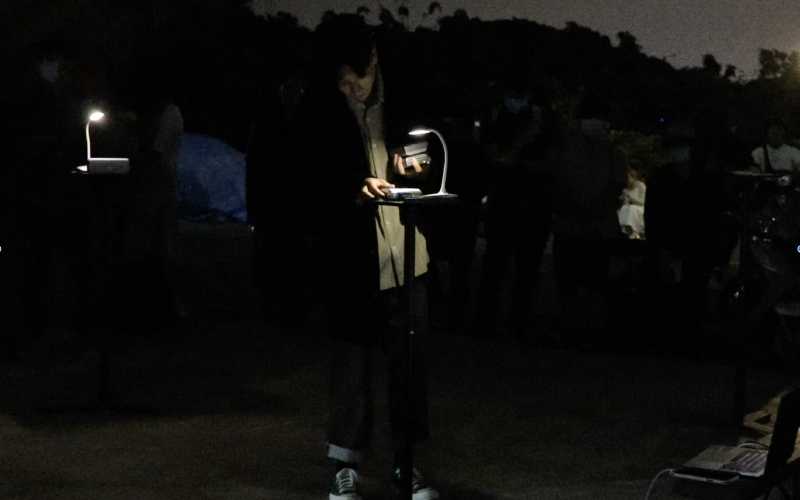 Memory Noise
Sound performance
2021
In addition to its erroneous aesthetics, noise may also serve as a carrier that contains a large amount of information. This performance can be seen as a process of creating noise, by displacing memories of different time and space in childhood and mixing them to shape special noises.
I placed four cassette players on the field. The cassettes inside played the sounds recorded by my family through the v8 camera during my childhood. These four cassette each was playing the sound of singing at home, playing with my brother, going to the amusement park, and having birthday. During the performance, I took the two recorders in my hand and randomly moved to four positions. One of them was recording and the other was playing the last recorded sound. Repeat this action about every 30 seconds, in the end, the noise caused by repeated recording and playback stacking is generated.
Under this method, memory and noise was linked togather, and each moment in the 30-second sound contains emotions recorded in different time and space. This sound may be closer to the true appearance of the memory.

雜訊除了其錯誤美學外,也可能作為夾帶大量訊息的載體。這場表演可以視作製造雜訊的過程,透過錯置童年不同時空的記憶並將其揉合形塑特殊的噪音。
我在場上放置了四台卡帶機,裡面的卡帶播放著我童年時期家人透過v8攝影機所紀錄下的聲音,四台分別是我在家裡唱歌、我跟我哥玩、去遊樂園玩以及幾次的生日等等的聲音片段,表演的過程中我拿著我手上的兩台錄音機隨機到四個位置,其中一台負責錄音另一台則播放上一次錄下的聲音,大約每30秒重複這個動作,到最後便產生了因重複錄放堆疊出的噪音。
在這樣的方法之下,記憶與雜訊成為了一體,而這30多秒的聲音中的每個時刻皆蘊含著不同時空中被紀錄下的情感,這樣的聲音也許更接近記憶真實的樣貌。